By Regina Villiers. Originally published July 28, 1999in The Suburban Life, added July 21, 2020.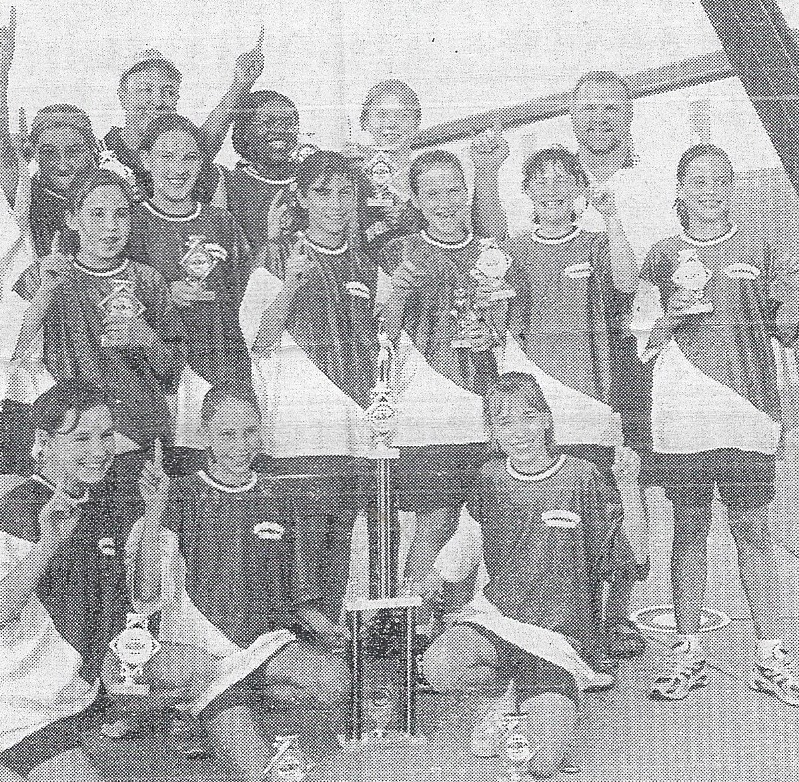 Basketball in July? You bet your gym shoes.
The Northeast Tarheels have been hooping it up since their team first formed this past March.
They've been shooting and winning ever since, and they've just completed a week's play in the Youth Basketball of America National Championship in Orlando, Fla.
Composed of 11 girls, the Tarheels team began from a nucleus of players that participated in a winter select league. The girls hail from the Lebanon, Mason, Kings, Loveland, Montgomery, Wyoming and Indian Hill areas.
All 12 or younger, the girls are a mixture of students from various middle schools in the area. Three of them –Emily Etxkorn, Gabrielle Guynan and Elizabeth Brandel- attend school at St. Margaret of York.
Catherine Oury and Stephanie Brown are students at St. Columban. Cathering Bove is from Wyoming. B.J. Johnson goes to Cincinnati Hills Christian Academy. Allison Young is from Mason. Tiffany Lovely is from Lebanon. And Brittany Rogers and Ellie Logan are both from Indian Hill.
The team is coached by Dr. Scott Rogers, a Madeira dentist and the father of a team member, and Neal Oury of Loveland, also a team parent.
Rogers has a distinguished background in basketball and is well remembered in the area for his sports ability.
In high school, he was an All American at Indian Hill. In college, he made a name for himself at Kenyon College. After graduation from Kenyon, he was drafted by the Indiana Pacers in to National Basketball Association. In 1994, he was elected to the Kenyon College Athletic Hall of Fame.
So, coaching his daughter's team just seems to be the normal, natural thing to do.
The team had a spring record of 26-4. They won the State Youth Basketball of America championship at Kent State University, defeating the Cincinnati West team 41-40.
This win sent them to the YBOA finals in Orlando July 10-17.
The national tournament was a dream week, both for the girls and their parents. The opening ceremonies were at Cypress Gardens, and the team spent one day touring Cypress Gardens.
Teams participated in the tournament from all around the country; one came from California.
The Tarheels started out the tournament by continuing their winning ways. They won their first three games. First, they defeated Cardinal, Va., 30-18. Next, they beat Charlotte, N.C., 25-23. Then, they won their third game, 43-17, over Williamson, Tenn.
They made it to the quarterfinals, where they lost to Livingston, La. They ended up eight in the tournament.
But the girls had one big triumph. They brought home a trophy by winning the tournament's national shooting title.
In the shooting competition, each team chose five players to shoot five shots each from three selected spots on the floor.
Brittany Rogers, Catherine Bove, Emily Etzkorn, Allison Young and Tiffany Lovely shot for the Tarheels at the shooting competition Tuesday night. When the scores were totaled, the Tarheels had won the national shooting title.
"The girls came so far in a few months. They played their hearts out." Coach Rogers said. "They are a very close group, and so are their parents. That doesn't happen often." And it doesn't happen often that girls we know from our area are playing basketball for a national title in July.
That makes us true round ball fans waiting for hoops season. Bring on the Crosstown Shootout.