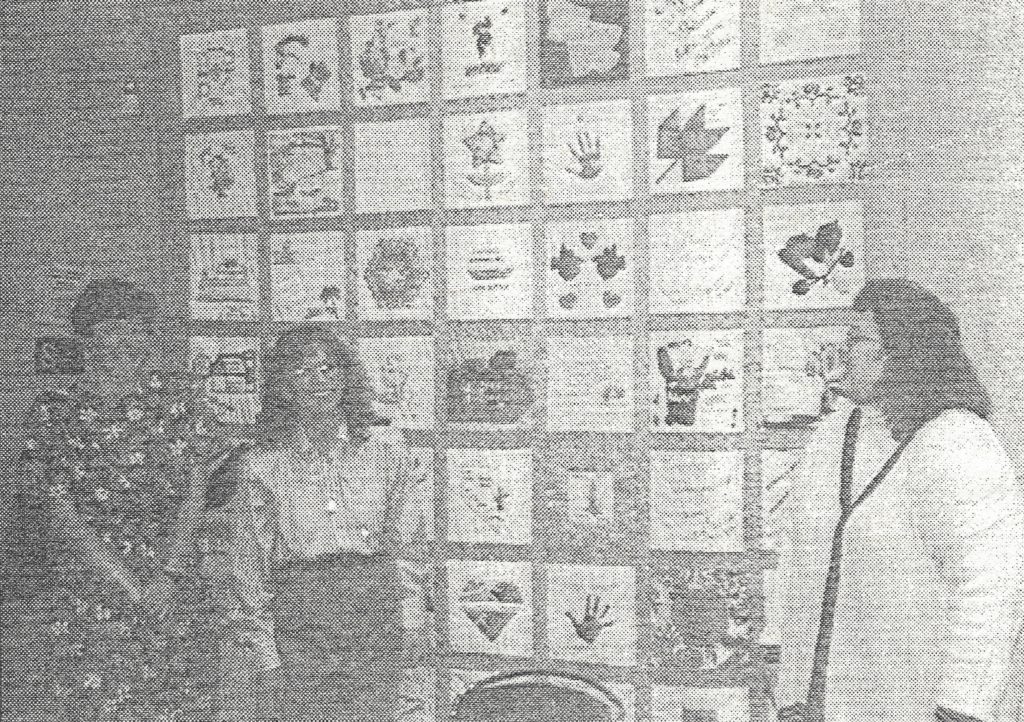 By Regina Villiers. Originally published April 17, 1996 in The Suburban Life, added April 16, 2020.
It's like catching some dread disease that drives you crazy, like chicken pox. I end up obsessed with the idea that I have to produce a family heirloom. Then for months on end, I have fingers pricked with more holes than my yard during moles season.
So, no more quilt shows, I said. No more needles probing my fingers and little scraps of fabric, when I should be wielding pens on some great work of fiction. I don't have the time.
But then the Madeira Library had a quilt show back on Feb. 24. Of course, I went. Couldn't stay away. Since then, I've been obsessed with quilts again.
The quilt show at the library was the brainchild of Debbie Hull, the children's librarian at the Madeira Branch Library.
Debbie got the idea from a book, My Grandmother's Patch work Quilt by Janet Bolton. The book contained quilt blocks and patterns to make a quilt.
Debbie, who does not quilt, enlisted the help of a co-worker, librarian Beverly Wilson, who does. The two women huddled and ran with the idea.
They decided to make a quilt top, using the blocks and patterns in the book. After the quilt was finished, they decided it would be a good idea to sandwich it together and let children quilt it.
And why not combine the quilting with a show and a display of quilts, the reasoned.
So, they set about looking for old quilts for their show. They had to go no farther than their own homes and closets and those of their coworkers at the library. They scrounged up enough beautiful old quilts among themselves to line all the walls of the library's community room, with quilts to spare.
Some of the lovely quilts on display were Dresden Plate, Grandmothers' Flower Garden, Lone Star, Grandmother's Fan, and a strikingly effective quilt using only one pattern piece, a small triangle.
Beverly brought a quilt she had made for her children, as well as some of her own quilted wall hangings. Also, two quilts made by her grandmother were on display, a crib quilt and a Sunbonnet Sue.
But the star of the show was a huge sampler quilt made for the 50th wedding anniversary of Beverly Wilson's parents. The blocks, noting events and people, were made and contributed by family members and friends. The quilt tells the story of the couple's lives.
Two members of the Ohio Valley Quilter's Guild assisted at the show that day. Both women are experienced quilters and brought samples of their work.
Jo Whetstone, who teaches quilting at McKie's Senior Center in Northside, sat at a table surrounded by some of her works in progress. She explained quilting to spectators and allowed anyone who wished to try to stitch on one of the projects.
Melissa Smith floated around, answering quilting questions and overseeing the quilting of the children's quilt, inspired by the book.
The quilt was sandwiched and laid out on a tabletop, ready to be tied, instead of quilted. Every child who came in was encouraged to do some stitches on the quilt.
After the show, the quilt was finished and put on display in the children's library at the Madeira Branch. Then it went to the main library in downtown Cincinnati where it'll be on display during Book fest '96, through May 10. After that, the quilt will be on permanent display at the Madeira library.
The quilt show was quite successful. Lots of people attended that cold afternoon and turned their thoughts to warm quilts.
As you might guess, I've done little else since then. I've actually finished a quilt top, a super simple, extra easy pattern, God's Eye. It's sandwiched, basted, and set up on a hoop in a corner of my living room. Every time I walk by, I can't resist stopping for just a couple stitches.
And my novel isn't finished. I guess there's no hope for me, unless I can join Quilter's Anonymous.