By Regina Villiers. Originally published July 31, 2002 in The Suburban Life, added July 21, 2020.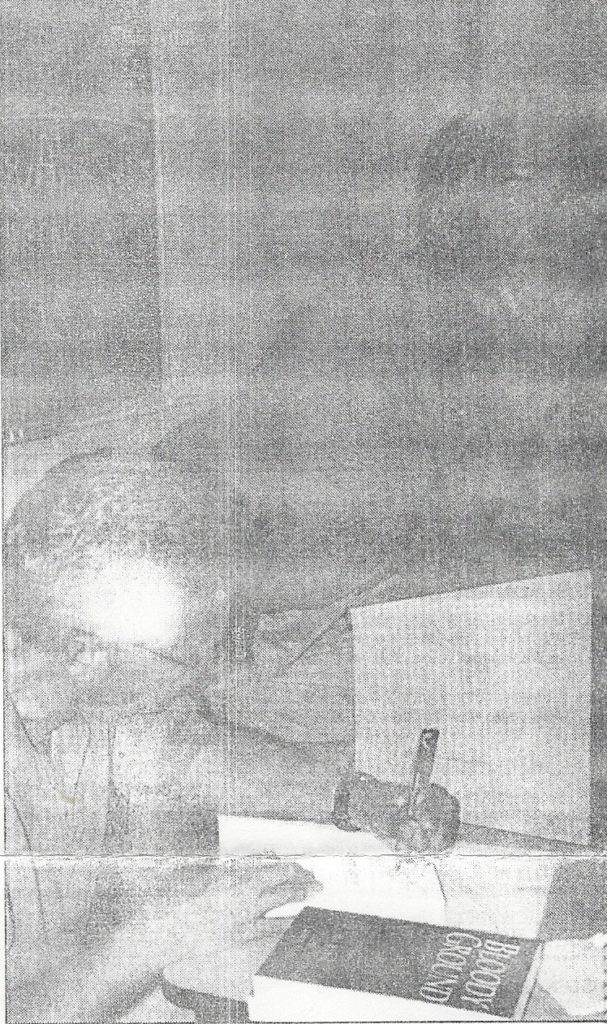 I have just returned from a place I go every summer for a working vacation. It's my Shangri-La, my Utopia, where all my days spent there are as good as life gets. It's a writer's conference, a class taught by the English department of Eastern Kentucky University at Richmond, Ky.
Every summer there, I see dear friends tat I love. It takes the place of a family reunion for me. And every summer, I meet new people. I meet and learn from writers who come to teach, writers who give me hope and inspiration to endure.
Some of them, like Gwyn Rubio and Shelby Stephenson, have become friends who continue to help me in my dream of writing fiction.
This summer was even better than usual. My old friends from the EKU English ranks were around. As always, the teaching was excellent. The visiting writers and lecturers were inspiring, and the members of the class a cut above the norm.
As I went around taking photos and talking to people, they eagerly posed and talked. "Are you going to write about us?" They'd ask.
When I'd explain that I write for a newspaper in Cincinnati and my column is slanted toward Madeira, the area where I live, their faces would drop. Obviously, they hoped for their 15 minutes of fame.
One mid-week night after an evening reading, I took photos of Silas House, that day's visiting writer. He's a young writer enjoying wide success with his first published book, "Clay's Quilt."
A woman from the audience oozed herself into a photo with him and then asked, "Are you from The Richmond Register?"
"No," I said. "I write for Suburban Life, a Community Press newspaper in Cincinnati." She flounced away, and I knew she had hoped to see herself in the local newspaper.
In the next day's class, I looked around at the other people attending the conference. Interesting characters. Too bad I couldn't write about them. I could see a story in every face. And in every face, I could see a counterpart face of someone I know in Madeira. They were the same people. That's why I liked them so much.
Beth Howard and Jess Stanfill, inseparable young friends and regular Eastern Kentucky students, were serious about writing.
But they were equally serious about having fun, as young women can.
They reminded me of Allison Webb-Bohl and Beth Neumann, young students in my Sellman School writing class three years ago. Allison and Beth still write, and both are still constant friends, teenage girls having fun.
Todd Jones in the EKU class could easily be Tom Hurst, also in my Sellman class several years ago. Tom was as serious about writing then as Todd is now. Also, Todd's red hair makes hem a counterpart for my writer son, Kelly, if Kelly flaunted a golden hoop in his ear. Not that there's anything wrong with that. If Kelly wanted to stud his ear with a gold stud, he'd get not flak from me.
All ages of students were in the class. Ruth Ann Antle, a poet, also painted and brought some of her paintings to the conference. She could easily be Mary Lou DeMar from Madeira.
Linda Caldwell, a classy, soft-spoken former librarian who writes poetry and young adult novels, could be Debbie Hull of the Madeira Library.
Miller Lyons of Bean Station, Tenn. Could be any number of "characters" around Madeira. Dan Henke, for example.
O'Neal Weeks or Lowell Wiley, both attending the conference with novels-in-progress, could be Clyde Dorn, who has finished a novel.
I have thought of no Madeira counterpart for Bev Olert, though one might exist. She spent the week talking about The Grateful Dead, and she is still a "Deadhead" even though Jerry Garcia is long dead and gone.
The teachers and writers directing the conference that day were Dr. Hall Blythe and Dr. Charles Sweet, both foundation professors of English at EKU. The unbounded enthusiasm and dedication as teachers can be found in varying degrees in many Madeira teachers. Jeanne Gulick's enthusiasm and Fran Wilson's dedication spring to mind.
Outside the classroom, Dr. Blythe and Dr. Sweet are successful, well-known writers. Outside the classroom and to their friends they are known as "Hal and Charlie," prolific "collabowriters" who write together as a team, often writing under a single pen name, Hal Charles.
They write for magazines, including Ellery Queen's Mystery Magazine and have published several books. Their new book, "Bloody Ground," a collection of short fiction, puts me right at their feet as an idolater. My dream is to do that and to do just a bit of what they have done as writers.
Over the years, Hal and Charlie have been my teachers, my mentors, and my friends. I can think of no counterpart for them in Madeira, or anywhere on the entire globe. The closest might be teacher, writer and friend Dianna Bartles.
Hal and Charlie have helped me in too many ways to list, and they are the main reason I return to the EKU campus every year. I'll keep returning, either till they retire or till I become too debilitated to climb the three flights of Case Annex stairs to their office.
If that day comes, they have assured me they'll meet me in the parking lot with a wheel chair. And that we'll have our own writer's conference in some local pub or establishment. I'm sure Dianne Bartles would do as much for me here in Madeira. Good people can be found, wherever we look for them.