By Regina Villiers. Originally published June 26, 1996 in The Suburban Life, added June 15, 2019.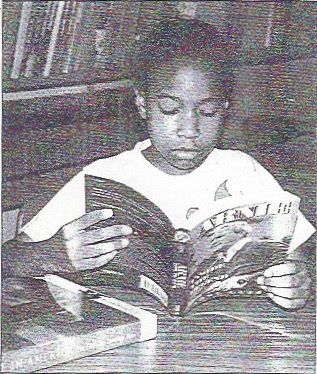 I'm almost a charter member of "Arnie's Army." I've been there almost from the time Arnold Palmer started winning on the golf tour. He's my idol. Following him for 18 holes on a golf course in a tournament is a lifetime thrill and a dream come true for me. And I hope to be there again, when he plays in this year's Senior Classic at the Golf Center at Kings Island, June 24-30.
But, I'm also in another army, "Ashleigh's Army," a new army for a young golfer I've just discovered.
Petite Ashleigh Lyons is all of 10 years old, and you'd have to look twice to even see her 4-foot, 2-inch body on a golf course. But, never, ever sell her short or take her for granted. At anything.
I first met Ashleigh as a student in my newspaper class in Sellman School's 30 Day Program, where we bonded on the first day. It would be most difficult not to bond with Ashleigh. She has the poise of a small Princess Di and the conversational ability of an Oprah Winfrey. She could, in fact, host her own talk show.
Actually, Ashleigh could probably do anything she wanted to do, anything from being an actress to a paleontologist. She has a high sense of drama and much acting ability, and she knows all about paleontology.
But right now, Ashleigh's thoughts are on the golf course, for she plans to spend lots of time there this summer.
Ashleigh has just won a golf scholarship. On May 25, at the Neumann Golf Course, she received the Les Birdies Women's Golf Club Scholarship for 1996.
With it goes a sizable amount of money for private golf lessons, which Ashleigh will take this summer, as soon as she decides on a teacher. She also received a plaque and golfing accessories. She already has her own set of pint-sized clubs, a gift from her parents last Christmas.
She has also been accepted into Tony Yates Hamilton County Golf Academy, which was established by the former coach about 10 years ago to help kids learn to play golf. There are five pickup points around the city where kids are picked up and taken to various golf courses. Ashleigh's pickup point will be at Anderson Place School in Madisonville. She will go to Little Miami Golf Course in Newtown once a weed to play in the Tony Yates organization.
Ashleigh's father, Bob Lyons, plays a lot of golf and taught her to play. He's looing forward to having her as his regular golfing companion.
Her mother, Sharon, is a fifth and sixth-grade language arts teacher in the Cincinnati school system, which may account for Ashleigh's interest and talent in reading and writing. She love to read and is in several reading programs.
Ashleigh watches golf on TV with her dad and keeps up with the pros on the tour.
Her golfing idol is Greg Norman, and she says she'd like to be the girl Greg Norman. "He's the 'Shark,'" she said, "And I want to be the 'Panther.""
Someday, she says, she'd like to compete in The Masters and try for a few green jackets.
Right now, those jackets would have to be a size "super teensy small."
But hey, it could happen. Ashleigh is a determined young woman. She goes after her goals, and she works hard to get them.
At Ashleigh's age, I didn't know about golf yet. Golf came to me much later in life. But I have enjoyed the glow of following the careers of two of the greatest golfers ever – Arnold Palmer and Jack Nicklaus.
And when Arnie retires, and I'm forced out of his "Army," I can still be in "Ashleigh's Army." She's going to be around in golf for a long time.