By Regina Villiers. Originally published May 29, 1996 in The Suburban Life, added December 16, 2019.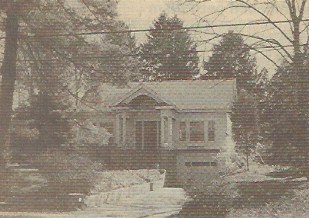 I don't know if kids still build models from kits, but mine did. Some models of those models still exist around the house and I have one treasured one, a special work of art kept behind glass, that Kevin presented to me when he was nine years old. And a short wave radio he built from a kit when he was a teenager still sees frequent use.
And just as my sons once built models from kits, people once built houses from kits. Real houses, and they lived in them. Many of those houses still exist, some in Madeira.
From 1908 to 1940, Sears Roebuck Company sold house kits by mail, issuing their first house catalog in 1908.
You could select your house from the catalog and order it by mail. You could order the complete kit, which contained the plans and materials, or you could order the plans alone. The plans cost $1, if ordered alone.
The houses were originally intended for rural areas, but they proved to be more popular in urban areas, so more of them were bought in cities.
Back in April, Bea Lask gave a program about the Sears houses at the monthly meeting of the Madeira Historical Society. Bea has made an extensive study of the houses and has identified those that still exist in the Cincinnati area. She has put together an engrossing slide presentation of those houses.
During the presentation, she showed slides of five houses that are located in Madeira: two on Euclid, one on Cherokee, one on Shawnee Run and one on Miami Avenue.
The one on Miami is the home of Mrs. Elizabeth Miller, located next to the library. This design is the "Crescent," and it was sold by Sears 1921-1926. The Millers bought it and moved there in the late 1940's. The house has the original garage. It has beautiful wood detailing and woodwork, as well as beautiful wood floors.
All the houses were high designs and quality materials. The Sears name meant to quality, and people knew they'd get what they paid for.
The houses were advertised in the popular magazines of the era, such as Collier's and The Saturday Evening Post, but the principal advertising for the houses came from Sears catalog.
In Kenwood, you can find Sears house designs – "Kilbourne," "Dover," "Osbourne," "Oakdale," "Josephine," "Lewiston," and "Maywood."
The "Starlight" was the most popular house design ever sold by Sears. This house was offered 1913-1933. The "Windemere" was a two-family house, with two apartments of five rooms each.
If you'd like to take a driving tour to check out Sears houses, you can find 10 of them on Eastwood Circle in Madisonville.
When you bought one of the houses, you had to furnish your own foundation and labor. But the package contained everything else, and the 70-page manual of instructions was so complete that it showed the correct spacing between the nails.
The houses were intended to last, and they have. Sears stood behind the quality of the homes they sold.
Sears stopped producing the houses in 1937, but they sold the stock on hand until 1940. By then, more than 100,00 families had bought their homes from Sears.
People trusted the Sears name and continued to order from the large Sears catalog up until 1993, when Sears discontinued its catalog and stopped all catalog sales.
     But just as I still treasure my son's models from kits, people still treasure their Sears houses from kits.  Mrs. Miller says she loves her Sears home.  It's a house of enduring quality.