By Regina Villiers. Originally published June 19, 1996 in The Suburban Life, added June 16, 2020.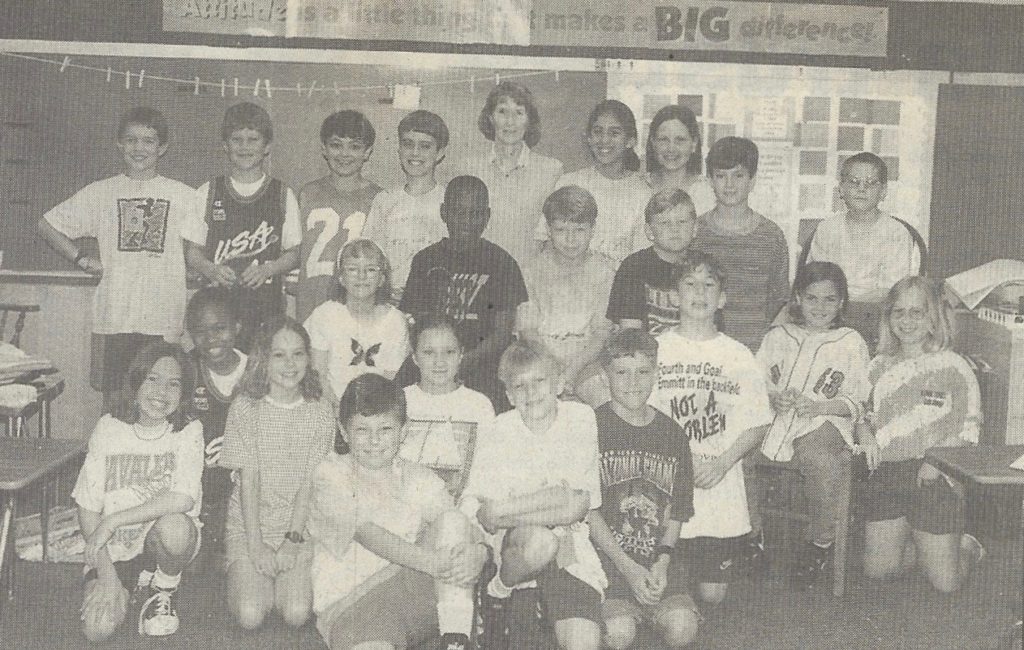 Whenever they spoke in class, or worked on assignments, it was hard for me to realize these articulate reporters in my newspaper class in Sellman's 30 Day Program were actually fourth graders, all only 10 and 11 years old.
They spoke with the tongues of adults, for the most part, and maybe they should have. Many of them, "with the exception of one or two," as my friend, Rich King, used to say, were honor roll students.
Still, I wondered on the last day if we had succeeded in our goals for them.
When I asked for their comments about the class, pint-sized Claire Gerdsen shot her hand in the air. "I think," she said, "that this class would have a head start at succeeding in journalism."
Eli Maiman looked thoughtful. "I felt," he said, in his most deliberate voice, "that I was in a reporting office in a real newspaper."
"Well," John Boehm added, "it was a lot of hard work, but it was pretty much worth it. We sure learned about the newspaper business."
Then Chris Justice said, "This morning, when I read about proficiency test, I…"
At that moment, I knew that our goals for these kids had been met.
Should they decide to become writers and journalist, they will have a leg up on everyone.
They had worked as real reporters, and they know what it's like to work at a real newspaper.
They had worked hard and met deadlines and had felt the pride of writing good, finished stories.
They had learned about writing and the newspaper business.
And they do appreciate the newspaper in their daily lives, and they are reading it.
This was what I had to be impressed with the poised and articulate ones who spoke and led class discussions, like Ashleigh Lyons and Sofia Sotelo.
I had to admire the creative ones like Eli Maiman, David Tensmeyer, Jonathon Woodhouse, and Megan Freshley.
It was also hard to believe the drive of David and Jonathon, who started to produce their own newspaper the first week of the class, without its being assigned. Surely, these two will end up as editors at The New York Times, or some other major newspaper. And both are artistic and creative, in addition to their drive.
But as time went on, I noticed the others and realized that they were just as remarkable.
There were the quiet ones- Michael Winters, Tom Hurst, Sean Derenthal and others. They quietly did everything we even suggested, produced excellent work and wrapped their pencils around my heart. At the end, I didn't want to let go and give them up.
I think one of the harder parts of explaining the 30 Day Program is convincing people that kids are learning and working hard, and that it isn't just fun and games.
This newspaper class worked harder, learned more, and produced more work in 30 days than I have seen classes accomplish in a whole year. Yet, I think most of them would tell you it was fun.
They worked from day one to the last class. Some even worked on their lunch hours and free time. No grass grew under their feet.
They listened to and interviewed writers and columnists from three major newspapers, and they wrote stories about them.
They wrote news stories about other people they interviewed.
They wrote movie and entertainment reviews. They wrote restaurant reviews and editorials. They studied ads and wrote them. And they wrote letters, lots of letters.
They put together their own newspapers, each writing everything in it, using what they had learned.
As a final big project, they wrote and published a class magazine, actually a book, doing the layout and photography for it with the help of Mrs. Carol Ladrigan and the "Quick-Take" camera in the computer room.
From their first ideas to the finished book, their imaginations soared, and they worked like squirrels collecting nuts before the first snowfall. They did rewrite after rewrite. They struggled with the computers, doing layouts and getting the photographs just right.
But, they met their deadline, and they finished it. All through the term, they were responsible for their own deadlines. They knew what was due and when they should turn it in, most of them, again " with the exception of one or two," met their deadlines and turned their work in on time.
Their finished book (magazine) is something I will treasure forever. I'm proud of their work, and they are to. Their names are all written on the book's cover, which was designed by Jonathan Woodhouse.
But even more important, their names are all written in capital letters on my heart.