By Regina Villiers. Originally published August 26, 1998 in The Suburban Life, added August 16, 2019.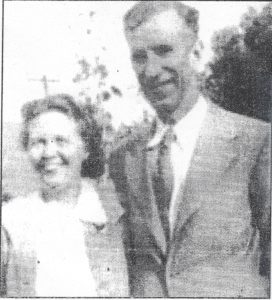 When it was said that the newly-revised Madeira post office would be finished in August, I decided that it would be a good idea to write a column about the history of the post office in Madeira.
That might be one of my worst ideas ever.
It's never a good idea for me to write a historical story if it requires research and facts. I'm a story-teller. My thing is to talk to someone and tell his story. Better yet, I like to just make up my own story. Forget the facts and research. Forget the days in dusty archives looking up dates and names. I don't do that. I don't do family trees. Nor do I hang around old cemeteries making rubbings from tombstones.
Still, I decided to do a history of the Madeira post office, thinking it would be an easy column. Piece of cake. I'd just dig out my Madeira research files and call up a couple of old-timers to corroborate and fill in the blanks.
Easy? Wrong.
In my Madeira research file are two booklets published by the city. One, "Madeira Milestones," was published in 1985 on Madeira's 75thanniversary. It was written by a committee. While much of it may be accurate, even I, a self-admitted, rotten researcher, have found numerous discrepancies in it. I don't trust it, and I wouldn't advise staking your grandmother's honor on its accuracy. So, I tossed it aside.
The second booklet was published in 1960 on Madeira's 50thanniversary. It's a gem. Professionally written and edited, it looks and reads like a book. It even has a foreword. More important, I've never run into any inaccuracies. It was thoroughly researched.
It was written by Graydon DeCamp who, according to the foreword, seems to have been the editor of the Sycamore Messengerat the time. He later became a respected writer and editor at the Cincinnati Enquirer. He did good work. You're lucky if you have a copy of this book. I'm sure you can't buy it anymore, unless you can find someone willing to sell you her copy. Mine was given to me, and no, I won't part with it.
Graydon DeCamp wrote, and I believe him, based on his reputation, that Madeira's first post office was established March 12, 1867, and that Elias G. Muchmore was the first postmaster. That sounded right to me.
Then he went on with the succession of postmasters. Isaac DeMar, he said, was the second. Then came Joseph Muchmore, Jeanette (Nettle) Muchmore, Hank Bauer and Howard DeMar. All that agreed with what I know and have been told by other sources, except for Isaac DeMar. But I was willing to take Graydon DeCamp's word for that.
Then DeCamp wrote about the post office locations. I decided to check this out by going to one of my trusted research assistants.
Dick Valentiner has lived in Madeira all his life and remembers everything from the day he was born. He has maps of early Madeira tattooed on his mind. He can pull up any image you want and describe it.
Dick agreed with DeCamp on all the locations. The first post office was in the Muchmore Building on Miami Avenue by the railroad tracks, across from the old George Meyer Co.
Then the post office moved to a building on the corner of Miami and Laurel, a building that still stands and is now a shoe shop. This building was built by George Bauer in 1916 and served as the City Hall. When Bauer became postmaster in 1922, the post office moved to this building.
The third location was across the street in the building that is now the Madeira Inn. Then it moved to its present location.
Great. That was enough research, I thought. Dick Valentiner and Graydon DeCamp agreed on four locations and six postmasters. Still, Isaac DeMar nagged at me. Was he really the second? Maybe I should call another trusted research assistant.
Russell DeMar is the last member living in Madeira of an old, distinguished family. Russ has researched the DeMar family tree and has written a book about them.
When I called him, he pulled out his DeMar family book, containing probably every DeMar family name and date for millions of years. There were two Isaac DeMars, he told me. One died in the Civil War. It couldn't have been him, according to my dates. He wasn't alive. The other was born about that time. Couldn't have been him, unless he was a child prodigy.
He had just blown a hole in my story the size of the Grand Canyon. I wailed, and I ranted.
"Calm yourself," Russ said. "I'll tell you about my dad who was the last postmaster."
His dad, Howard DeMar, became postmaster in 1933, he told me. At that time, the post office was in the front half of the small building that is now the shoe shop. The pay was $1,440 a year, good money for post Depression years. People came to the post office to pick up their mail. There were only 400 families in Madeira. Mail came by train until 1953. Each day at 9:15, his dad would lock up the post office and pull a cart to the train station. He would hand in the out-going mail and pick up the in-coming mail. In the afternoon at 3:30, he would repeat the process. In between, he would sort and hand out mail to customers and read a library book from the library in back of the post office. It was a good life.
He retired in 1965. Meanwhile, the post office had moved to its present location and had become a branch of the Cincinnati post office. Howard DeMar was the last person to bear the title of "Madeira Postmaster."
This was great. My kind of story.
Lesson learned, forget the research and stick to story-telling.
Although we no longer wait for a train or in line to get our mail and we see the cost of postage go up, it's always nice to get a letter from someone special, especially when the letter is addressed to me. It's worth every cent.