By Regina Villiers. Originally published November 22, 2000 in The Suburban Life, added November 16, 2020.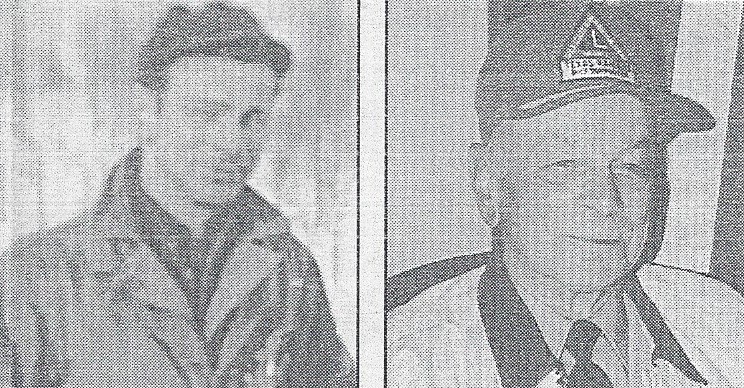 When James Walter of Madeira thinks back to his service in the U.S. Air Force in World War II, he remembers most that he was always cold and that he never got any sleep.
He was inducted into the Air Force on March 20, 1943. Although he was married and already had one child, he volunteered. He chose the Air force because he has always liked aviation and was working as an aircraft engine assembler at the time.
Walter became a member of the 892nd Air Engineering Squadron.
He served nine months and two days in the U.S. before being sent to the European Theater of Operations, where he served almost two years before being sent home in November 1945.
That was a long, long time ago. His memories of those years have dimmed and somehow melded together into one big memory of sameness. He's also a modest man who is reticent to talk about it. Over and over in an interview he kept saying, "Don't make a big deal of it."
But it was a big deal. Anyone who served two years in Europe in the air offensive in those years was a big deal.
His military transcript record says he served in the Ardennes, Central Europe, Normandy, Northern France and the Rhineland. That covers lots of territory and lots of battles.
Either of those could be many stories or even books, but getting Walter to talk about them is as futile as eating tomato soup with chopsticks. Anyone who was even near Normandy could be the subject of a book, not just a mere postscript.
Of all the battles and all the locations, his memories of the Battle of the Bulge and of Belgium are the most vivid. The battle of the Bulge occurred in December 1944 when the Allies were striving to occupy the Rhineland. To try to counteract, Hitler ordered the German command to attack through the Ardennes Forest. The Allies hung on, and by the beginning of 1945, they attacked the Ardennes bulge from all sides, ultimately prevailing. Allied casualties totaled about 77,000, but Walter came through without a scratch.
"I was lucky," he says.
More than the fighting, Walter remembers the people of Belgium, their kindness and how they helped the American soldiers. The warmth of the people helped to overcome the cold.
"It was so cold," he said, "so they would sew blankets around or sleeping bags to make them warmer. And they had places in buildings and even in their homes where they would hide us out and let us sleep inside out of the cold."
Walter downplays his role. As a mechanic, he did not fly the planes, where he insists all the danger was. Only once did he serve as a tail gunner I a B-17 bomber. He says that was enough.
"That taught me who the real heroes were," he said. "When I saw men go out in planes and not come back, or when I saw boys frozen to death in foxholes, I knew I had it easy."
His military transcript lists his decorations and citations as: the Unit Merit Service award, the Good Conduct Medal, WWII Victory Medal, the American Campaign Medal, the Belgian Fourregere, and the EAME Campaign Medal with six bronze stars.
They're gone. He doesn't have them anymore and doesn't know how, when or where they disappeared. Somehow, they did. "They were used by my son for show and tell."
But he would like to have them now, even though he was never much into displays or scrapbooks.
Even most of his pictures from back then have disappeared. He doesn't know what happened to them.
After the war, he came back to Cincinnati and went to work.
"Since I'd gone to aviation school," he said, "it was easy to get a job with what I most liked to do – planes."
He worked for a time with Ford Motor, testing engines. Then he worked for 31 years testing engines at General Electric.
He also served five years with the Air Force Reserve at Wilmington.
Mostly, though, he just came home and tried to forget.
But all the years since have not dimmed two memories. He can't forget the bitter cold. "And I don't remember ever getting any sleep."