By Regina Villiers. Originally published June 24, 1998 in The Suburban Life, added June 2022.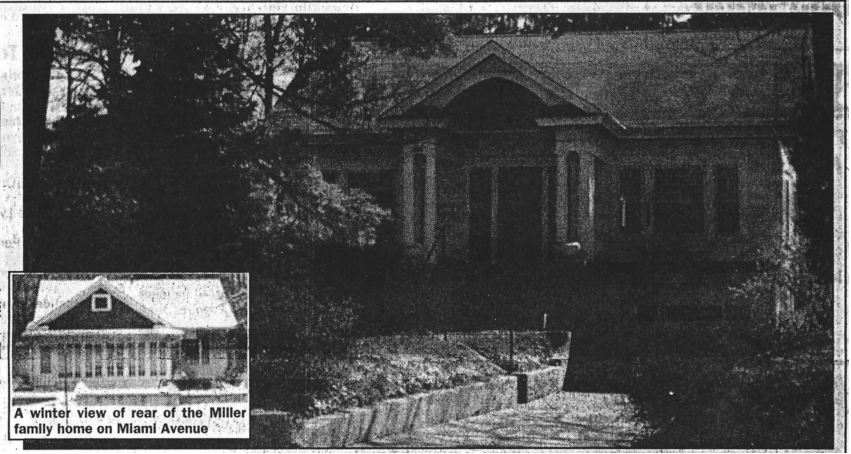 Like the song about the boll weevil, the madeira Historical Society has been "looking for a home," for years and years. Time after time, they've thought they had a place to park their artifacts, only to see it slip away.
But finally, the group has a home. Elizabeth Miller will give her home and surrounding grounds on Miami Avenue, next door to the library, to the Historical Society to be used for a museum. The property will be put into a charitable trust and endowment fund setup for its maintenance. Mrs. Miller will live there for the rest of her life, then it will become the home of the Historical Society where a museum will be located.
"It seemed like the thing to do." Mrs. Miller said. "It's what I want. They (the society) need and deserve a place, and I didn't want the house to be torn down."
A modest donor, Mrs. Miller didn't expect a fuss. People give all the time," she said. "No big deal. I just think of myself as a steward."
But Doug Oppenheimer, past president, charter member and chief drumbeater for the society, thinks it is a big deal. "it's a magnanimous, unmatched gift," he said. "It's hard to put into words what it means."

Bob Miller, current president of the society, knows what it means, because he knows how long the group has searched for a place of its own.
The house is historical with a lot of stories behind it.
"Too many old houses in Madeira have already been torn down," Mrs. Miller said.
The house is a Sears built in 1923 by Howard DeMar, a builder, who later became Madeira's last postmaster. It is the "Crescent" model and was built for Mr. and Mrs. O. Fournier. He was a chemist for Proctor & Gamble.
The Millers bought it in 1948 from a family named Drake.
Mrs. Miller tells how they were living, with their four children, in a subdivision in Silverton, and they hated it because her husband, Bruce E., liked to garden, and there was no room for a garden.
They were out one Sunday afternoon looking for houses for sale, when they came to this one. No one was home, but the Millers started to look around the yard. When they got to the corner of the house and could see the huge grounds in back, Mr. Miller said, "This is it."
And it was. They bought it and reared their four children there. At the time, the twins, Dotty and David, were 10, Young Bruce was 4, and Ruth was 1.
"My only concern," Mrs. Miller recalled, "was if our antique buffet would fit into the dining room." It did, and it's still there.
The eight-room house has a solarium, and attached greenhouse, a fruit cellar with a sink, and a two-car garage. The house is immaculate and in like-new condition. The beautiful hardwood floors shine, as does all the original woodwork.
"Houses today aren't built like this," Mrs. Miller said. The house sits on a 1.5-acre lot, and it's a naturalist's dream.
As Mrs. Miller leads a tour of the grounds, she points out the botanical wonders. She's especially proud of the "Horseshoe Garden," a huge horseshoe-shaped garden over a big part of the ample backyard.
On the left are woods and wild-flowers. On the right are all kinds of ornamental shrubbery. Beside dogwoods, redbuds, and the usual wooded varieties, you'll find the unusual, like the Devil's Walking Stick. It's unlikely that intruders would ever make it through the side of the yard containing a grove of these. The tall, slender trunks are covered with very sharp thorns.
There's a large shady, sunken garden called the "Crocodile Pond." It's said that the Fournier's kept a crocodile there.
Bruce Miller had a large vegetable garden way in the back, next to Dr. Madden's horse farm. Every year at Christmas, Madden would shovel manure over the fence onto the Miller's, making a huge compost pile.
"That was Bruce's Christmas present every year from Dr. Madden," Mrs. Miller said.
The garden and the grounds were al organic, she said, and they still are. The pert, spry-90-year-old still takes care of her greenhouse and many of the gardens and flowers herself. She's out working every day.
Oppenheimer, in the 11 years he has been her neighbor, mows and takes care of the grounds for her. But she kids him and swears she won't let him in her flowers. She insists that he zones out on his tractor and doesn't realize where he is going.
He laughs and says: "Well, there was the time I hit that dogwood tree, and it toppled right over. But I think I planted one back before your missed it."
The gift Mrs. Miller has given to the Madeira Historical Society is a gift to everyone in Madeira.
"And the location couldn't be more perfect." Oppenheimer says. Next door to the Library and across the street from the Hosbrook Bird Sanctuary, he sees the area as a historical, culture center for Madeira.