Mission Statement
The Madeira Historical Society is organized for the purpose of discovery, preservation and dissemination of knowledge about the history of Madeira and the surrounding area. Our mission includes establishing and maintaining a museum within the City of Madeira, available to the public, to house historical photographs, information and artifacts.
2023 Schedule and details of upcoming events:
The Miller House Museum is open for tours from April – December
on  the 1st Saturday 1 – 4 PM and the 3rd Sunday 1 – 4 PM
Be a volunteer Greeter or Docent. Call 513-561-9069 or email madeirahistoricalsociety@gmail.com

to volunteer.
Check this website or Facebook for any date changes.
*************************************************************************************************
*************************************************************************************************************
Click on this link for the latest publication of our newsletter:  The Vintage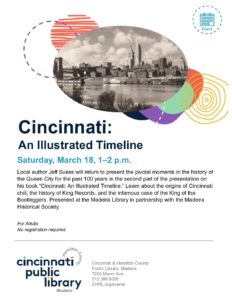 MHS 03-18-2023 Program – Cincinnati Timeline – The Last 100 Years – Presented by Jeff Seuss
Most Recent Library Program:
 Siege of Cincinnati Link 11/16/19
Previous Library programs can be view on:
Program Videos Archive
by clicking this tab on the top left of our home page
Columns by Regina Villiers
These articles were featured weekly in Suburban Life-Press. There are over 600 stories about Madeira published over a span of fifteen years and we have the honor to host them on our website.
Regina was a longtime resident of the Madeira community, raised her family here, taught school in Madeira, and is legendary for providing over fifteen years of historical reading enjoyment. Her articles have been featured many times in many venues throughout the years. We are excited and proud to be able to share this history of our community with you.
Please click on top left of our homepage under Columns by Regina Villiers to view these wonderful articles!
 In memory of Regina Villiers:  Thank you for teaching and sharing the history and stories about our hometown of Madeira, Ohio.
Click on these links for YouTube videos on the History of Madeira:
by Les LeFevre
by Karl Meyer
Recent Photos:
Membership:
Click to download a PDF of the membership application form
.
Membership is open to any person interested in the history of Madeira and the surrounding area.
Individual (18 and over)
$15.00
Family (incudes all under 18)
$25.00
Corporate – Silver

Corporate – Gold

Corporate Platinum

$150.00

$500.00

$1,000.00

Student (under 18 with no family membership)
$5.00
Centennial Club (Member give $1 for each year Madeira has been incorporated as a village/city of Ohio)
$113.00
Life (Head of Household, & Spouse)
$750.00
Annual dues may be sent to:
Madeira Historical Society
c/o Donna Lienhart
7229 Longfield Dr.
Madeira, OH 45243
Historical Society Meetings – General membership meetings are held at the Madeira Public Library, please contact us for upcoming meeting details.
E-Mail – madeirahistoricalsociety@gmail.com
Madeira Historical Society
7226 Miami Ave.
Madeira, OH 45243
513-561-9069
Madeira Historical Society Board
President
Robert Bartlett
Vice President
Doug Oppenheimer
Treasurer
Donna Lienhart
Recording Secretary
Robin LeFevre
Communications Secretary
Open
Board Member
Tim Brock
Librarian/Archivist – Board Member
Carol Heck
Museum Director – Board Member
Liz Frederick
Board Member
Tom Frietch
Board Member
Les LeFevre
Board Member
Lisa Violand
Board Member
Greg Johnson
Ways to help support the Madeira Historical Society: 
Kroger Community Rewards  just log on to your Kroger card and select Madeira Historical Society as your preferred charity.
Please, don't forget to 'Like' us on Facebook!